Web Design & Development
Rokomari IT Ltd manages to customize the website design and development according to your requirements which fulfill your all desire.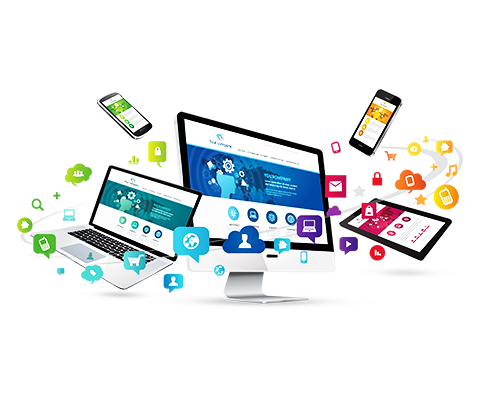 Most of the people are dependent on online nowadays. Having a website is a must for business now to grab this huge number of people. It is the Internet booming era and having a website is a necessity not luxury. It's easy to design any kind of website! But for getting a perfect website for your company needs effort and vast knowledge. At Rokomari IT Ltd, we build ROI centric Website for growing companies, assuring maximum usability and success.
Our highly responsive dynamic website featured on visualization capability on mobile, laptop, desktop, tab and any place of the world. Our efficient team updates your website with the changing trend of technology They also secured your data back up and security issues at a very reasonable charge. Clients are also facilitated with content updates, re-designing services, and repair and alteration of existing web portals at very reasonable costing.
As we work on the latest technologies and solution our working software is always updated with the change with google algorithm, and it provides you a perfect content management system with an updated version of software to differentiate your website from others. The changing trends are always updated by our team so that you will never get backdated with trending technologies.
The basic features of our services are:
1) Fresh and Clean
2) Mobile Friendly
3) Quick Loading
4) Web Analytics
5) SEO Friendly
6) Easy to customize
Why You Take Our Services:
As a top-grade web development company in Bangladesh, We always suggest you the best website design to represent your organization,
Our qualified and skilled design team who have developed a recess for themselves in the monarchy of industry specialists and their design are seen as the best in business. We at Rokomari IT Ltd. Bunch of expert team is here for giving you best website design and development
We developed hundreds of triumphant website's responsibilities and projects under our diagram which is a demonstration of our mettle. We have designed websites for top-notch blue chip companies and corporate and earned the title of one of the best website Development Company in Bangladesh.
We uplift and foster inventive resemble and mindset in terms of the draw which leads to one's preferred sense of method and technique.
Rokomari IT Ltd. can pivot all of your preoccupations into reality and accelerate the expansion of your online business. Our client range is wide encircled tiny to large size organizations to big international corporations and everything, which falls in between. Our yearly experience and competency on technical accomplishment in the area of the content management system, graphics and e_commerce solution for clients and many more. Rokomari IT Ltd is the premier website development company in Dhaka which determined to the successful completion of your project with customized web design.
Our target is to attain our goal with the satisfaction of you. We will design customized web design and development services for you according to your requirements. We are always here for post-delivery services for you. Our team members are always dedicated to there work. So if you in need of a web site contact with us at Rokomari IT Ltd best IT service provider company in Dhaka for your success.